20th September 2022 | Press Release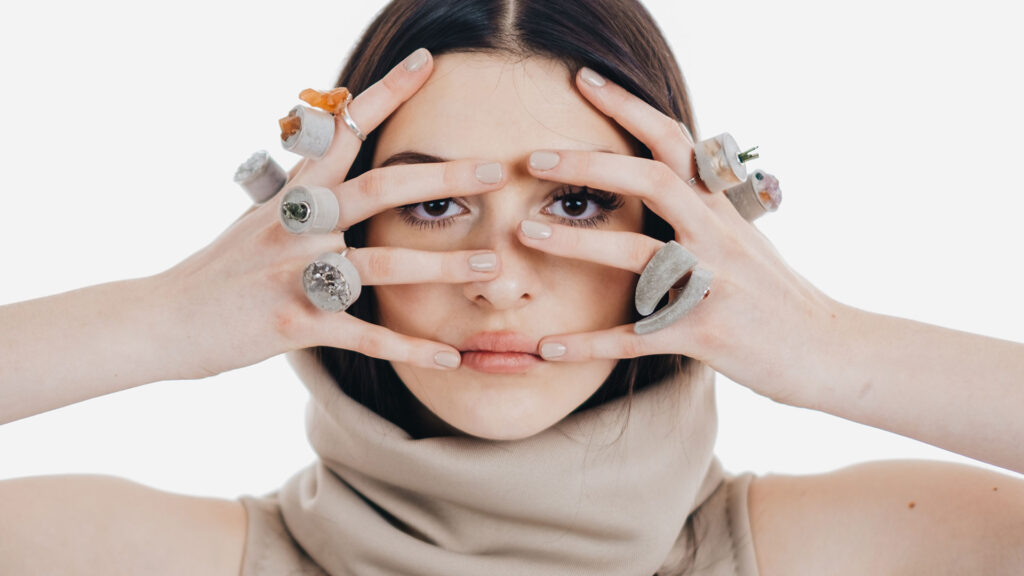 | Part of this year's Designblok is an exhibition of concrete jewelry by Tyna Sousedik, which you can see as part of a live map from 5 to 9 October 2022 in the studio at U Klikovky 118/4, Prague 5. A large part of the Architecture collection will be on view. This shows the possibility of embracing concrete as a fully-fledged material, whose use, when well intended and in accordance with a respect for life, can carry a message of the permanent connection between human activity and the workings of nature.
The author of the jewelry is Kristýna Sousedíková and she has been working intensively with concrete for the fourth year. "For myself, I can say that not only the Architecture collection, but also all our work together, in a team and with customers, leads me to share my experience, to pride and to joy. Architecture is a collection of jewelry linking the journey from the old beech forest to the heart of the city and back. It's a walk through trees, meadows, ponds, along the river to the café by the Charles Bridge, to the Kampa Theatre, to the Rudolfinum. Everywhere there I feel the essence of love and inspiration of nature for my decision, what I create and who I am. As the sun recedes, I look at the open space of the dialogue of desire and life. I am at home everywhere here."
Kristýna Sousedíková, jewelry designer.
Tyna Sousedik is a very young brand that was established in the spring of this year. It offers a creative take on the malleability and beauty of concrete and turns these into jewelry. Each piece of jewelry is created as a single unique object in a workshop in the heart of the Křivoklát forests. The intention of this work is to show concrete as a fascinating material that can be used in harmony with its delicacy, expressiveness and kindness, while retaining all its industrial qualities. In contrast to the certain coldness of concrete, minerals, semi-precious stones, variously processed glass or raw resin are used. The carrier element of each piece of jewelry is silver.
Contact: Robert Juhoš, phone no.: +420 777 188 815, e-mail: robert@tynasousedik.com
Link: Designblok